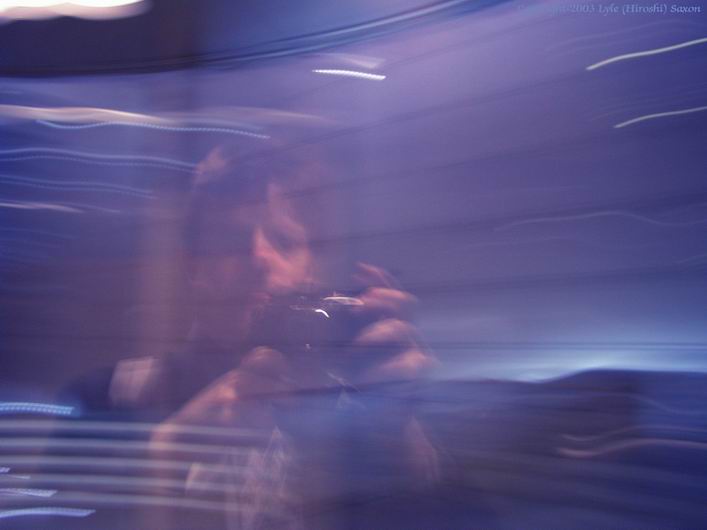 Lyle (Hiroshi) Saxon
Photographer/Writer/Rewriter
E-mail: lylehsaxon.at.gmail.com

Work History
1984 - Present
Writer, Editor, Photographer, Videographer, Translator, Interpreter
, Etc. Tokyo
Contractual and freelance work for various on-line and printed publications, including magazines, newspapers, company reports, and general office documentation. Familiarity with both Linux and MS-based text editing and photo management software.
2011/06/01-04 Ginza Exhibition Tokyo
Exhibition of my "Tokyo 1991" / 1991年の東京 1月-12月 video, featuring about 70 seconds (per month) of video street scenes from each month of 1991 for a quick 15-minute tour of the year. Views of Shinagawa, Ginza, Otsuka, Kyojima, Shinbashi, etc. Still capture prints of select scenes were also displayed along the walls. [Venue] [blog]

2011/03/07-19 Group Exhibition "Room-306, March 2011 Exhibition"
Displayed montage photographs for four-person group exhibition at Ginza Okuno Building, Room-306 (銀座奥野ビル306号室) in conjunction with architectural themed items by team of architects/artists. [blog]

2010/12 Portugal Exhibition "Tokyo Hanami (東京花見)"
Exhibition of select photographs from the 2009 hanami season in Tokyo. [blog]

2010/06/09-19 Ginza Exhibition/Installation Tokyo
Exhibition of my "Tokyo 1990" / 20年前の東京 video, presented in an installation environment in the 1932 Okuno Building, depicting Tokyo of 1990 (different styles, buildings, and general atmosphere). Details included the Marunouchi business district, Shinbashi, Shiodome, Ginza, Shinjuku, Ikebukuro, Harajuku, Shibuya, etc. [Venue] [blog]

2006 - 2009 Technical Documentation Maker for office equipment manufacturer, creating copy machine training material for service technicians worldwide. Job duties included hands-on work on the machines (testing procedures, etc.), original writing, rewriting, translating, photography (of machines, machine parts, etc.) and PowerPoint slide presentation material creation.

2002 - 2003 Contractual work for publishing/printing company in Tokyo. Original writing, rewriting, and some translation work for the automotive and computer industries.

2000 - 2002 Contractual work for PR agency in Tokyo. Mainly writing and rewriting, but also including occasional direct personal contact with clients. My PR experience was instructive regarding the process of media relations and the process of getting product information into the media.
1984 - 1999 Speech Inducer - Instruction of written and spoken English at many of Japan's top companies, government agencies, schools, etc. Sociologically, this was an invaluable way of coming into direct contact with and learning about the people of Japan in general and Tokyo in particular.
Projects
1996 - present Images Through Glass-II Tokyo, Japan
Writer/Editor of an Internet multi-contributor newsletter, circulated to subscribers worldwide and the basis for a 218 page book (three months of an eight year, several thousand page total).
1990 - 1992 Tokyo Video Project Tokyo, Japan
Videographer - Learned moving picture techniques - from camera handling to editing. Technologically premature equipment (8mm analogue tape), and equipment failure (four cameras in two years) led to mothballing the project.
1986 - 1988 "In Tokyo" Tokyo, Japan
Photojournalistic commentary on life in Tokyo
Book of photographs taken in and around Tokyo, with explanatory text and short stories about life in the city.
1983 - 1984 Images Through Glass-I San Francisco, California
Photographer - Black and white photos of San Francisco printed onto quality 8.5x11 paper and sold in packs of eighteen.
1981 - 1982 Arel Designs Sacramento/Sunnyvale, California
Stationer - Pen and ink drawings (provided by other artists), and also photos (my own), which I had printed in various colors on quality paper and then sold as stationary.
1996 - Present H-57 computers. Construction of Frankenstein computers with used parts from Akihabara, enabling a modern computer user experience with minimal financial outlay for hardware.
Education
Intensive study of photography/composition via courses, most photography magazines on the market, books, and practical experience. Tens of thousands of images (practice makes perfect, etc.)
College: There is college time in my background, but it's irrelevant, as most of value that I have learned has been outside of formal institutions. I appeal to those who have the courage to hire on their own judgment and don't need excuses.

Regularly Read Publications: National Geographic, Various on-line publications, etc.