"Kurihama"

"Perry sailed into Tokyo Bay with his black ships..." Have you read that somewhere before? It's a lie! If he had brazenly sailed into Tokyo Bay (Tokyo was called "Edo" at that time, BTW), then it would have been an act of war and not a bloodless event, even for the side with the bigger guns. Actually, it was quite diplomatic - he sailed to the outside of the mouth of Tokyo Bay and insisted on personally delivering a message. This was agreed to and he set foot ashore in Kurihama on July 14th, 1853 (at the tip of the mouth to Tokyo Bay) - pictured above (five pictures - sorry for the color shift). At a later date, there was another meeting at Kurihama, at which time it was agreed that trade could be conducted at Shimoda (at the tip of the Izu Peninsula - far-far from Tokyo Bay).

Trade was conducted at Shimoda for a few years and then a new agreement was reached wherein trade could be conducted at Kamakura - which led to Yokohama (next to Kamakura) becoming the main port for foreign shipping.
The above picture is the coastline with Kurihama in the middle - as seen from the ferry that runs between Kurihama on the Tokyo (Kamakura actually) side of the bay, and Kanaya on the Chiba side.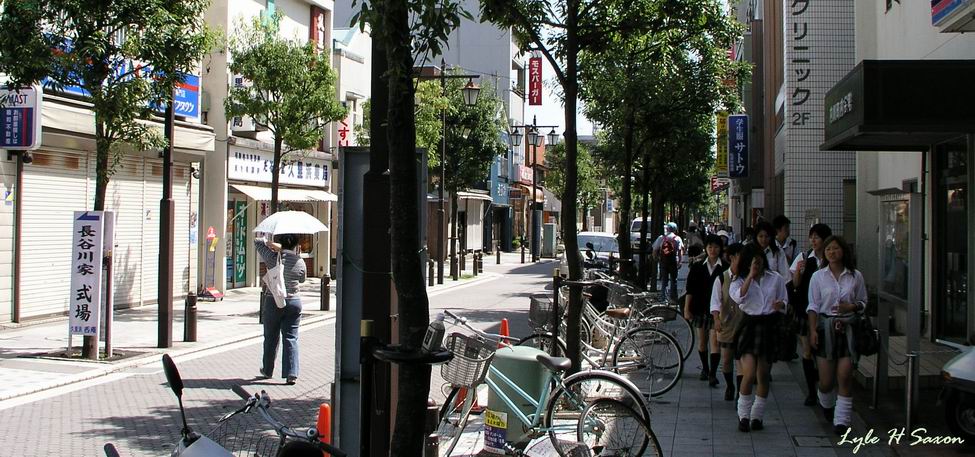 There's a bus from Kurihama Station to the ferry, but it's only about a fifteen or twenty minute walk - part of the route pictured above. Below is the Kurihama beach with an approaching ferry in the background.

There are three ferries like the one below - although in the winter, they only run two of them. It's a pleasant ride across - the only complaint being that it's too short! Just when you've walked around the decks a little, bought something to eat and drink, and are ready to relax, the 35-minute ride comes to an end.

The scene below is what you see from the ferry just after leaving or just before docking on the Kurihama side of the run. The hills around here had big guns in WW-II to protect the mouth of the bay.

Another interesting bit of history is that the stone used for the first western style buildings in Yokohama was ferried across the bay here - this being the shortest point across to Chiba on the other side.
Copyright 2005 by Lyle (Hiroshi) Saxon, Images Through Glass, Tokyo