"Dinner Cruise Boats

(Yakatabune)

" by Lyle (Hiroshi) Saxon, Images Through Glass, Tokyo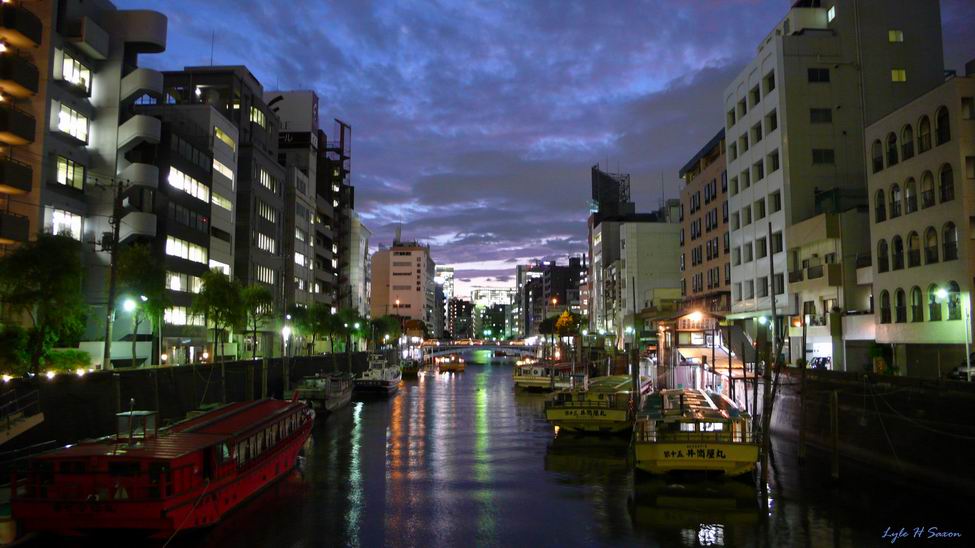 Groups rent these boats

(yakatabune)

to cruise out of this river into Tokyo Bay and have dinner with a view of the city lights of Tokyo from out in Tokyo Bay. I experienced this once myself when the company I was working at rented one of them. The one we rented had a karaoke machine in it and I remember how the boats around us sped off elsewhere when the bad singers with the microphones assaulted the airwaves. (Below, right) - A group of women in kimono head home after finishing a shift working on one of the boats.
The boats need to be low to get under the bridges and the theme on every one I've seen has been traditional, with tatami mats, zabuton to sit on, low tables, and food servers wearing kimono.
One example of the boats is at this page - which states that the current owner is the fourth generation to carry on the same business. Some photos of the inside of the boats (with English text) are here.

What did I sing on the karaoke machine in this traditional atmosphere? Satisfaction! After finishing the song, a young guy in the group said he was a Rolling Stones fan and marveled at the concept that I was alive when Satisfaction came out as a new song. Particularly with music, there's a lot of shared culture between Japan and the West - from jazz and classical to rock and... more!


Copyright 2007 by Lyle (Hiroshi) Saxon, Images Through Glass, Tokyo