"Tsurumi"

-

by Lyle (Hiroshi) Saxon, Images Through Glass, Tokyo



Tsurumi is mainly landfill and largely industrial or post industrial, so the feeling on the Tsurumi Line is a bit different from most of the other areas of Tokyo & Yokohama (Tsurumi is part of Yokohama). (Below) - The first picture was taken at Kawasaki Station and the other eleven were all taken on the Tsurumi Line as I rode out on two of its three branches.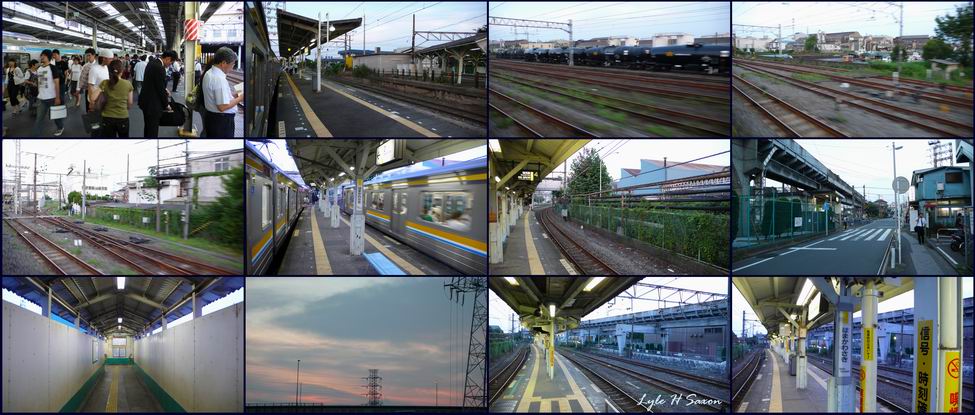 (Below) - One of the branches of the Tsurumi Line ends with a station that is right next to the water of Tokyo Bay. It's an interesting sensation to step out of an air-conditioned train in the evening and find yourself looking out over waves with a strong salt wind blowing in off the water.



(Above #6) - I got off of the return (Tsurumi Line) train a couple of stations shy of Tsurumi Station so I could walk around a bit and see the area between there and Tsurumi Station.



(Above) - Crossing a bridge over the Tsurumi River (#3), I stopped in the middle of the bridge and looked towards the mouth of the river, taking picture #4. Quite near to the bay here, it appeared to be high tide when I crossed the bridge.



Reaching the Tsurumi Station area, I walked down several narrow streets with small drinking places and pachinko parlors and then found a pedestrian overpass (below #5) that took me over the many tracks to a large temple on the other side.



(Rail pictures above & below) - Several major train lines pass here - the Tokaido Line, the Yokosuka Line, the Keihin-Tohoku Line, the Tsurumi Line (not major), the Keikyu Line, etc.



(Below #1) - A typical asphalt car road. (Below, #2, 3, 4, & 5) - Stone pedestrian paths leading to temples are vastly more pleasant to walk on than car roads. I would love to go back in a time machine and experience this city with no cars! Presumably it would be both pleasant and eye-opening. Pleasant to be away from fire-breathing machinery and eye-opening in that I would see first-hand the things that are better now than then.



(Above #5 & Below #6) - The rare beauty of seeing something in an area free of artificial lighting. The sky is bright due to the nearby city lights of course, but notice how there are no direct lights in the pictures. This is an extremely rare thing to behold in Tokyo & Yokohama - cities of too many lights. (I was just barely able to get the pictures with the camera set to its highest ISO rating.)



(Below #2) - The shape of streets in most cities in Japan (Kyoto being one notable exception) are very irregular and I've come across a few houses like this built out to a point where a road forks, forming what looks like a ship's bow. (Below #6) - Approaching Tsurumi Station (Note that there are two Tsurumi Stations - the JR one and the Keikyu one - I used the JR one for this photo expedition). Asphalt, concrete, electric lights and electric trains - convenient elements of modern life, but they produce a longing for stone, green, blue skies, moonlit nights, quiet roads without cars and trucks, etc....


Copyright 2007 by Lyle (Hiroshi) Saxon, Images Through Glass, Tokyo