since 1997. 5. 8 (Na go ya)
---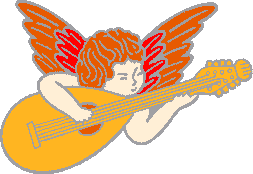 RealAudio 3.0
Mandolin Melodies Museum
Opened on Nagoya Day [Heisei 7(na)/5(go)/8(ya)](May 8, 1995)
* Information *
On the third Friday of every month, we're having "An Evening with Italian Dishes & Folksongs"
We have started "Miss Pane Della Galleria"(Italian Cooking & Baking Class)
---
* Guide to the Mandolin Melodies Museum

Information
opening hours,entrance fees,location,etc.
* Exhibition

Records & CDs
records(SP/EP/LP)& CDs of mandolins from all over the world since 1920.
The oldest record(SP) is from France released in 1910.


Famous articles of mandolin
more than 20 mandolins including; world famous mandolins from Italy and early works by Masakichi Suzuki who is the first mandolin maker in Japan.
* Original Goods from Mandolin Melodies Museum (available)

Items that can be obtained from the with Mandolin Melodies Museum
Hirokazu Nanya's lessons for any level from beginners to instructors.

List of Scores (in Japanese only)
more than 6000 scores.
Miss Pane's Italian cooking and baking class since Nov.30 1997. She's Mr. Nanya's daughter.

An Evening with Italian Dishes & Folksongs
on the third Friday of every month, from 7:00 p.m. to 9:00 p.m. at the hall of Arte Mandolinistica. Come and enjoy Italian dishes while listening to a live performance with mandolins.
* Links

links to webpages about mandolins. Last Modified (Mar. 9th, 1998)
* Profile

about Hirokazu Nanya,the director of Mandolin Melodies Museum.
---
---