[Note: This is an old page of IroiroVar - the current page is here:
IroiroVarMain
]

April 22nd, 2005 - I visited the World Expo 2005 in Nagoya (or Aichi, as the PR team - whoever they may be - has decided it be called) and there are a batch of pictures in the Photo Gallery. Click on the photo below to get to the first batch and visit the Photo Gallery page to see other pages of expo photos.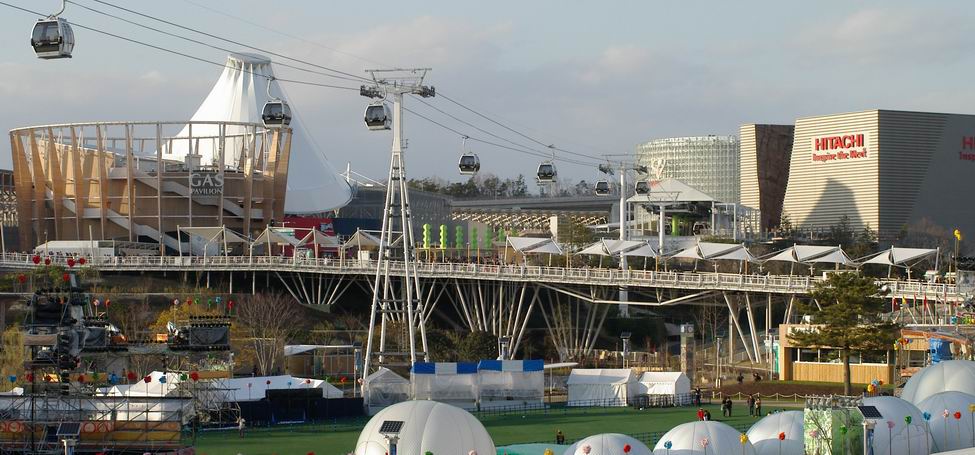 March 24th, 2005 - It's always a pleasure to see something I spent some time on actually in print, and so I was happy to open my copy of a local magazine yesterday, but then somewhat disappointed that they printed all of my photographs with my text in black and white! Black and white... in the year 2005! Yikes! Anyway, at least with this combination image below you can see what color the bowling alley was supposed to be and also see a couple of pictures they should have used, but didn't. (Clicking on the image takes you to the two middle pages - large enough to read the article.)




March 15th, 2005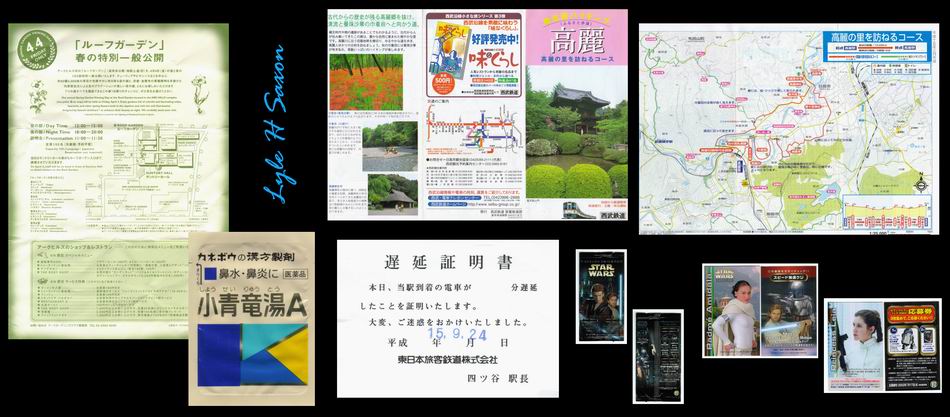 Iroiro... starting with the green ink page on the left, which is a flier I picked up when I visited the rooftop garden over Suntory Hall (See "Stop & Smell the Roses" in LL-318). I accidentally stumbled upon that rather interesting rooftop garden on that fine day (April 4th, 2003), and then tried to go there by design that fall (it's only open for one day in the spring and then one day in the fall), but missed it....
The powdered medicine pack is something I'm taking for the (very bad this year) spring allergies I'm dealing with right now (I consumed the contents of that pack a couple of hours ago).
The opened out brochure (both sides) is a typical example of the free material railway companies put out for people. Considering that many of these companies also operate buses, taxis, and hotels, it's good business to provide material that stimulates travel on their lines.
In the center of the bottom row is a... late pass (for want of a better term) from JR Railway. Companies here do not like people coming to work late, so written proof that the train was late is often necessary. I wasn't technically required to provide them at the full-time office jobs I had, but there were a few times when I came five or ten minutes late, and when my explanation of the late train produced skeptical looks, I waved the pass in the air and said "I speak the truth! Here is written proof from JR to attest to that fact!" This always made people look back down at their computers with a look that seemed to say "There he goes...", but then why give me the accusatory look in the first place I say!
The movie promotion stuff in the right corner is something I was given at a 7-11 a few years ago when I worked at the printing company (I spent *too* much money on convenience store food when I worked there!). The reason I put it in here is just to point out that - to a very large degree - the movie industry here (from the viewers' standpoint) is not much different from NA, which begs a question or two regarding the influence of foreign movies on a culture. Imagine if 90% of the movies seen in France, Italy, or the US were Japanese movies - aside from the fact that none of those countries would likely allow that to happen, I think it's fairly obvious that people would naturally expect that to influence the local culture... and yet, that same suggestion when speaking of western movies in Japan is usually dismissed.

Lyle




(2005/03/12)
It just occurred to me today that it might be a good idea to put up a page with various odds and ends related to the experience of living in Japan. While the photos in the Photo Gallery are exactly that in one sense, what I have in mind for this page is a page with scans of advertisements, local over-the-counter medication boxes, etc. To start with, behold the cover (x3) of the free weekly magazine

R25

: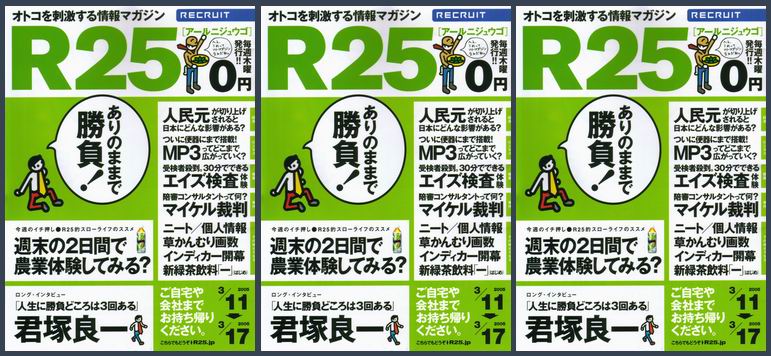 According to one of my students (who just graduated from university), the magazine targets young men around the age of 25 (thus the "25" in the title presumably), but is in fact equally interesting to both men and women. It is available for free every Thursday, and - in my case - was handed to me by a beautiful woman who was saying "R-25" as she handed out the magazine in a bag with a free can of a new drink. Inside the magazine is a television schedule for the week, introduction of new gadgets, recent news, etc. That it's a popular magazine is believable enough, as my student who explained the magazine to me wasn't able to get a copy, so when I produced mine, her face lit up - looking as though she would have been happy for me to give her my copy, saying something like "You can have this if you like - I can't read it anyway", but no - I said "No! You can't have it! This is my copy!".

Here's what I was handed - with the magazine and drink in the bag. The drink was pretty good, by the way....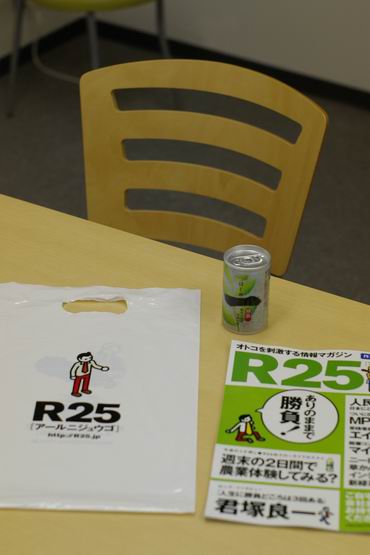 So much for now - look for more stuff before long!

Lyle