Information




Location
Jinaimachi town, Tondabayashi city, a national historic preservation district and heritage site of Japan, which is located in the south-eastern part of Osaka prefecture, the western part of Japan

Access
Jinaimachi town is located in 10 minutes walk from Kintetsu Tondabayashi station. Would you please drop in Jinaimachi Kouryuukan, or visitor center, to get the town information?

From Kansai International Airport
Airport Limousine Bus service available bound for Kawachi Nagano Station. (60 minutes) Please take Kintetsu railways from Kawachi Nagano to Tondabayashi.(15 minutes)

From Osaka International Airport (Itami Airport)
Airport Limousine Bus service available bound for Abenobashi Station. (30 minutes) Please take Kintetsu railways from Abenobashi terminal to Tondabayashi.(30 munites)

From JR Shinkasen Shin-Osaka station or
Osaka (Umeda) station
Please take Subway Midousuji line from Shin-Osaka station or Osaka (Umeda) station to Tennoji Station. (20~30 minutes) Please change trains at Tennoji and take Kintetsu railways from Abenobashi terminal to Tondabayashi. (30 minutes)




Tourist Information Center
Located in front of Kintetstu Railways Tondabayashi Station

Address.
19-10, Honmachi, Tondabayashi city, Osaka, 584-0093, Japan
TEL.+81-721-24-5500
FAX.+81-721-24-5500
open 8:45a.m. until 4 p.m.
closed on Monday & Aug.13 through Aug.15 and Dec.28 through Jan.4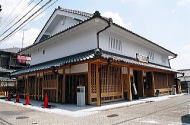 Jinaimachi Kouryuukan,
Town Community Center
(Visitor Center)

Address
9-29, Tondabayashi-cho, Tondabayashi city, Osaka, 584-0033, Japan

TEL.+81-(0)721-26-0110
FAX.+81-(0)721-26-0110
open 10a.m. until 5 p.m.
closed on Monday


Sightseeing Map
Available at Tourist Information Center and Jinaimachi Kouryuukan, visitor center.

Restrooms
Available at Jinaimachi Kouryuukan, Jinaimachi Center and Jinaimachi Tenbou Hiroba (Viewing Terrace)

Visitor Parking
Only available off the location of Jinaimachi town. Visitors are requested not to drive cars into the area of Jinaimachi town.