Information


Location
Jinaimachi town, Tondabayashi city, a national historic preservation district and heritage site of Japan, which is located in the south-eastern part of Osaka prefecture, the western part of Japan

Access
Jinaimachi town is located in 10 minutes walk from Kintetsu Tondabayashi station. Would you please drop in Jinaimachi Kouryuukan, or visitor center, to get the town information?

Sightseeing Map
Available at Jinaimachi Kouryuukan, visitor center.

Restrooms
Available at Jinaimachi Kouryuukan, Jinaimachi Center and Jinaimachi Tenbou Hiroba (Viewing Terrace)

Visitor Parking
Only available off the location of Jinaimachi town. Visitors are requested not to drive cars into the area of Jinaimachi town.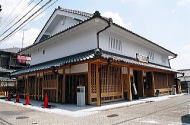 Jinaimachi Kouryuukan,
Town Community Center
(Visitor Center)

Address
9-29, Tondabayashi-cho, Tondabayashi city, Osaka, 584-0033, Japan

TEL.+81-(0)721-26-0110
FAX.+81-(0)721-26-0110
open 10a.m. until 5 p.m.
closed on Monday