Information
National important cultural property
Designated in 1983


Open to the public (admission required)
Year built: 1644

Address:
Zip code 584-0033
Tondabayashi cho, 14-31, Tondabayashi city, Osaka Pref.
Phone: 0721-23-6117


About 15 minutes' walk from Tondabayashi Station or Tondabayashi Nishiguchi Station of Kintetsu Nagano line. Parking lots are available at Tondabayashi Municipal east parking newly opened in February 2014 (parking fee required) in the case of visiting by car.

Open Hours:
10:00 to 17:00
Closed:
Monday
December 28 to January 6.


Inquiry:

Cultural Property Division in Tondabayashi City Hall
Phone: 0721-25-1000 (ext. 508)
History:
Sugiyama family was the leading founder of Tondabayashi village among the eight founders. The family did business as Wataya. About 450 years ago, the family started involved in new development of the village and initially ran a cotton wholesaler. Then they started a brewing industry in the mid-Edo period and greatly prospered as he served as a head of the brewing industry in Kawachi region. The family went out of the business in the mid-Meiji era, facing a new liquor tax introduction as well as a lack of competition with the large-scale production areas such as Nada and Fushimi. The residence is the birthplace of Ms. Tsuyuko Isonokami, a female poet of Myojo school (Her autonym was Takako Sugiyama, 1882ー1959).

Since the owner tried to sell the land and buildings to a real estate agent, Tondabayashi city decided to purchase them at 166 million yen in June 1983 to preserve the valuable cultural property. Thereafter dismantling repair was carried out at the cost of 230 million yen in two-and-a-half years. The earthen floor of the main house building was totally dismantled and the tatami rooms of the main house were half demolished at the time of repair. The property was designated as an important cultural property of the country on October 26, 1983 as a typical architecture of merchant's house which was originated from farmer's house inMinami-Kawachi region.

Tondabayashi city has currently owned and managed the property and it has been open to the public since 1987. In Jinaimachi, the ex. Sugiyama residence designated as an important cultural property, ex. Tanaka residence registered as a tangible cultural property and Katsuma residence are open to the public inside the building. The Katsuma residence is now open to the public as an Italian restaurant from October 2012.

The former Sugiyama residence was used as a film location and shooting of the movie titled Maihime directed by Mr. Masahiro Shinoda in 1989, starring Hiromi Go was held.

Trade name:Wataya

Sugiyama family's records:
Sugiyama family's records have been in exhibition categorized as a " document of the village" and as a "document of the sake brewery" in the Kyoto University Museum.
Tour guide by volunteers:
Guided tour service by local volunteers is available for visitors in group. Advanced booking is required.

Please contact the Jinaimachi Visitor Center (Jinaimachi Kouryuukan) for inquiries.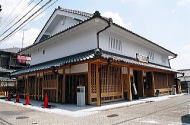 Jinaimachi Kouryuukan,
Town Community Center
(Visitor Center)

Address
9-29, Tondabayashi-cho, Tondabayashi city, Osaka, 584-0033, Japan
TEL.+81-(0)721-26-0110
FAX.+81-(0)721-26-0110
open 10a.m. until 5 p.m.
closed on Monday