Information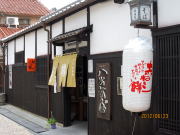 Haccho Chaya Soba Restaurant

Location
Located just in front of Jinaimachi Visitor Center (Kouryuukan) along the Tomiyama-cho street in the Jinaimachi town. About 8 minutes' walk from Tondabayashi station.
Opening Hours:
11: 00-18: 00

Holidays:
Monday
In case Monday hit on National holidays, Tuesday is off.
Phone:
+81-721-25-0011

Address:
10-12, Tondabayashi-cho, Tondabayashi city, 584-0033, Osaka Prefecture, Japan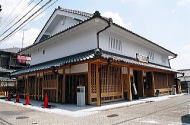 Visitor Center
(Jinaimachi Kouryuukan,
Town Community Center)

Address
9-29, Tondabayashi-cho, Tondabayashi city, Osaka, 584-0033, Japan
TEL.+81-(0)721-26-0110
FAX.+81-(0)721-26-0110
open 10a.m. until 5 p.m.
closed on Monday

Visitor Parking
Road width is very narrow in Jinaimachi town. If traveling by car, please use Tondabayashi Municipal east parking newly opened in February 2014 (Toll parking).
You can park the minibus for groups and passenger cars for general use. Only one parking lot available for minibus, you must book it in advance with Tondabayashi City Hall. A 15-minute walk to the Jinaimachi Visitor Center and 5 minute walk up to the former Sugiyama family house, an important national cultural property.
You will note that you will contact Tondabayashi Municipality Office for a parking lot of large tourist bus for groups. Thank you in advance for your kind cooperation.