Information

Not open to the public
(private residence)
Year built:
the first half of 19th century
Location:
At the intersection of Tomisuji street and Mimami (south) Kiashoi-cho street in Jinaimachi town.
Trade name:
Totsukawa-ya

After finishing the brewery business, the family business was called Tabako-ya

History (Origin)
The Kuzuhara family was said to be a county samurai from Totsukawa village, Yoshino-gun, Nara Prefecture, and began a liquor brewery in Tondabayashi in 1781. However, the current main house was built in the early 19th century, and it is considered to be the reconstruction. According to the old map in 1710, it can be found that there was a Kaisho, a meeting house, to the east of the residence of the Kuzuhara family. No remain is not left now, but the name of Kaisho-cho has been derived from it.<![endif]>
Features of the buildings
In the premise, occupying a half of the block, there lie the main house, the other residence whose entrance faces towards the east and the storehouse, which surround the yard in the u-shape. There is a large drawing room of the 12 tatami mats called Oku for entertaining guests, and the power of large merchant can be remembered.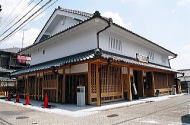 Visitor Center
(Jinaimachi Kouryuukan,
Town Community Center)

Address
9-29, Tondabayashi-cho, Tondabayashi city, Osaka, 584-0033, Japan
TEL.+81-(0)721-26-0110
FAX.+81-(0)721-26-0110
open 10a.m. until 5 p.m.
closed on Monday

The site-seeing map
available in English. Please stop by to the Tourist Information Cetnter or Jinaimachi Visitor Center. You can get the visitor map.

Restrooms
Available at Jinaimachi Visitor Center (Jinaimachi Kouryuukan), Jinaimachi Center and Jinaimachi Tenbou Hiroba (Viewing Terrace)

Visitor Parking
Road width is very narrow in Jinaimachi town. If traveling by car, please use Tondabayashi Municipal east parking newly opened in February 2014 (Toll parking).
You can park the minibus for groups and passenger cars for general use. Only one parking lot available for minibus, you must book it in advance with Tondabayashi City Hall. A 15-minute walk to the Jinaimachi Visitor Center and 5 minute walk up to the former Sugiyama family house, an important national cultural property.
You will note that you will contact Tondabayashi Municipality Office for a parking lot of large tourist bus for groups. Thank you in advance for your kind cooperation.