Information
OASI
Italian Cuisine Restaurant
Opening Hours:
Lunch 12: 00-14: 00
Dinner 18: 00-21: 00
Reservation for dinner is requested by the previous day. Reservation by phone is accepted.
Holidays:
The 1st Monday and another day in a month (Irregular)
Phone: +81-721-21-3078

Address:
3-13, Tondabayashi-cho, Tondabayashi city, 584-0033, Osaka Prefecture, Japan
Open in February 2013
Sugimoto chef of the restaurant was trained in northern Italy. Please relish the authentic Italian cuisine that he makes use of plenty of local ingredients in Minami-kawachi region.
Residence of Katsuma family

Open to the public
Building age
The late Edo period
Location
Tomi-suji street and West Hayashi-cho avenue
History (Origin)
Katsuma residence was built by the Nakamura family in the late Edo period. Mr. Choichiro Sugiyama in Jinaimachi town in Tondabayashi purchased the estate in 1874 and it was called South Sugiyama. As a defense of the south of Jinaimachi town, located in the important point of old East Kouya highway from long ago, the location seems to have been a citadel of scenic spot overlooking the Ishikawa River and the Kongo Mountains in the distance. Katsuma family bought the estate 1910 and has owned it until now.
Ms. Tsuyuko Isonokami (her autonym was Takako Sugiyama), the successor of Sugiyama head family and a poet used to live in her owned lodge called Enichi-an, built in the grounds of the South Sugiyama and had a good time of composing poems.
There were a creek and water mill around the site of Tsuyuko's art where a zigzag path continued down from the lodge of Enichi-an.
Her famous poem of "Koitabashi" (which literally means a small wooden bridge) has been praised in its high artistic quality since it was published in the poetry magazine "Myojo" and the like. She wrote the feelings to continue waiting for a lover in the evening on the bridge over the stream of the water wheel. (Katsuma residence preservation committee)
Remark:
The description of this column was quoted from the commentary on the back of Katsuma residence admission ticket.
Features of the building You are able to overlook the flow of Ishikawa River and Kongo-Katsuragi mountain range from the garden. Many of the furnishings and fittings that have been placed in a room are ones from the Meiji to the early Showa period, and what were actually being used in each era. It is possible to catch a glimpse of how the life was at the time.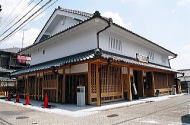 Visitor Center
(Jinaimachi Kouryuukan,
Town Community Center)

Address
9-29, Tondabayashi-cho, Tondabayashi city, Osaka, 584-0033, Japan
TEL.+81-(0)721-26-0110
FAX.+81-(0)721-26-0110
open 10a.m. until 5 p.m.
closed on Monday

Visitor Parking
Road width is very narrow in Jinaimachi town. If traveling by car, please use Tondabayashi Municipal east parking newly opened in February 2014 (Toll parking).
You can park the minibus for groups and passenger cars for general use. Only one parking lot available for minibus, you must book it in advance with Tondabayashi City Hall. A 15-minute walk to the Jinaimachi Visitor Center and 5 minute walk up to the former Sugiyama family house, an important national cultural property.
You will note that you will contact Tondabayashi Municipality Office for a parking lot of large tourist bus for groups. Thank you in advance for your kind cooperation.