Information

Kintetsu Railway Tondabayashi Station
The nearest station to the historic district of Tondabayashi Jinaimachi.
It is approximately ten minutes on foot to Jinaimachi town. Kongo Bus service available for Mt. Kongo (Chihaya) and for Mt. Katsuragi (Mizukoshi Pass) .
Local people call Tondabayashi station Hon-eki (main station) to distinguish it from Tondabayashi-Nishiguchi Station that is a neighboring station for Kawachi Nagano.
The station opened in 1898 when Kayou railroad service between Tondabayashi and Kashiwara of Kansai railroad started. The railway service was merged into Osaka railway (called Daitetsu) and is now operated as a part of Kinki Nippon Railway (Kintetsu) , which is the oldest route forming Kintetsu network. It had been a base station of the steam locomotive operation and there existed a depo of engine in the west of the station site until it was replaced by the electrical train service in 1923.
In Jinaimachi town, there remains a traditional residence of the Koshii family who was president of former Osaka Railway Company Ltd. in the early Showa era. The wealthy family ran a variety of business including forestry business doing business as Koshii Forestry and he promoted the new development of Osaka Railway including service extension between Furuichi station (Habikino city in Osaka prefecture) and Kumedera station (Kashihara city in Nara prefecture) in 1929 and introduction of 20m-long larger train vehicle.

- The above descriptions were partly quoted from the guidebook written by Mr. Reizo Takayama published by JTB Publishing Company.
Milepost for remains of Worrior Masashige Kusunoki
It was built in February 1902 to show the distance to the remains for convenience of visitors. It was written by Mr. Meikaku Kusakabe. - quoted from the description of 53 pages of "Heisei Minamikawachi Region Pictorial" issued by Tondabayashi Lions Club.
Kongo Bus service available from Tondabayashi station for the ruins of Chihaya Akasaka castle built by Masashige Kusuki and for Hirokawa Buddhist Temple in relaton with Saigyo Houshi, a famous poet and Buddhist priest.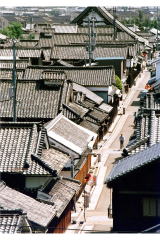 Jinaimachi in Tondabayashi - Jyounomon-suji street

Photo: provided by Tondabayashi Municipality, unauthorized copying and replication are strictly prohibited.
<![endif]><![endif]>
Location
Jinaimachi town, Tondabayashi city, a national historic preservation district and heritage site of Japan, which is located in the south-eastern part of Osaka prefecture, the western part of Japan

Directions to Jinaimachi town, Tondabayashi
It is a 10-minute walk from the Tondabayashi Staion or the Tondabayashi Nishiguchi Station of Kintetsu Nagano line.

From Kansai International Airport
Airport Limousine Bus service available bound for Kawachi Nagano Station. (60 minutes) Please take Kintetsu railways from Kawachi Nagano to Tondabayashi.(15 minutes)

From Osaka International Airport (Itami Airport)
Airport Limousine Bus service available bound for Abenobashi Station. (30 minutes) Please take Kintetsu railways from Abenobashi terminal to Tondabayashi.(30 munites)

From JR Shinkasen Shin-Osaka station or
Osaka (Umeda) station
Please take Subway Midousuji line from Shin-Osaka station or Osaka (Umeda) station to Tennoji Station. (20~30 minutes) Please change trains at Tennoji and take Kintetsu railways from Abenobashi terminal to Tondabayashi. (30 minutes)

The site-seeing map available in English
Please stop by to the Tourist Information Cetnter or Jinaimachi Visitor Center. You can get the visitor map.

Restrooms
Available at Jinaimachi Visitor Center (Jinaimachi Kouryuukan), Jinaimachi Center and Jinaimachi Tenbou Hiroba (Viewing Terrace)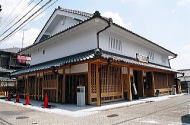 Visitor Center
(Jinaimachi Kouryuukan,
Town Community Center)

Address:
9-29, Tondabayashi-cho, Tondabayashi city, Osaka, 584-0033, Japan
TEL.+81-(0)721-26-0110
FAX.+81-(0)721-26-0110
open 10a.m. until 5 p.m.
Holiday: Monday

Visitor Parking
Road width is very narrow in Jinaimachi town. If traveling by car, please use Tondabayashi Municipal east parking newly opened in February 2014 (Toll parking).
You can park the minibus for groups and passenger cars for general use. Only one parking lot available for minibus, you must book it in advance with Tondabayashi City Hall. A 15-minute walk to the Jinaimachi Visitor Center and 5 minute walk up to the former Sugiyama family house, an important national cultural property.
You will note that you will contact Tondabayashi Municipality Office for a parking lot of large tourist bus for groups. Thank you in advance for your kind cooperation.