Information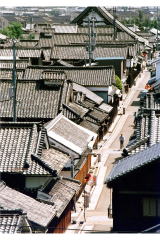 Jinaimachi in TondabayashiiJyounomon-suji streetj

Photo: provided by Tondabayashi Municipality, unauthorized copying and replication are strictly prohibited.

National conservation district of valuable traditional buildings

Jinaimachi town, a part of Tondabayashi-cho located in Tonadabayashi city has been chosen as a national conservation district of valuable traditional buildings since 1997, which is only selected in Osaka Prefecture. Among approximately 500 buildings in the town, 181 buildings built during the period from the Edo era to the early Showa era have been identified as traditional buildings.
An application for prior approval to the section of cultural properties in board of education of Tondabayashi city is required when any change of current exterior appearances viewed from a street in the conservation district such as enlargement, renovation, repair, redecoration, change of the color, new construction and demolition of any buildings is to be made. After repairing works for the conservation of the exterior appearances, the reconstruction and face-lifting in consideration of landscaping, a white wall, a board fence, and a lattice door of traditional house remain as used to be, and rustic and calm atmosphere has been kept as people still live in those houses.
The signpost is provided with main traditional residences to explain each origin and history, and those guiding signposts cum street lights have been placed along the streets of stone-pavement.
In addition, the appearances of newly built buildings are also harmonized with the neighboring historic district in consideration for the traditional townscape in Jinaimachi town.

Location
Jinaimachi town, Tondabayashi city, a national historic preservation district and heritage site of Japan, which is located in the south-eastern part of Osaka prefecture, the western part of Japan

Access
Jinaimachi town is located in 10 minutes walk from Kintetsu Tondabayashi station. Would you please drop in Jinaimachi Kouryuukan, or visitor center, to get the town information?

Sightseeing Map
Available at Jinaimachi Kouryuukan, visitor center.

Restrooms
Available at Jinaimachi Kouryuukan, Jinaimachi Center and Jinaimachi Tenbou Hiroba (Viewing Terrace)

Visitor Parking
Only available off the location of Jinaimachi town. Visitors are requested not to drive cars into the area of Jinaimachi town.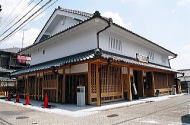 Jinaimachi Kouryuukan,
Town Community Center
(Visitor Center)

Address
9-29, Tondabayashi-cho, Tondabayashi city, Osaka, 584-0033, Japan

TEL.+81-(0)721-26-0110
FAX.+81-(0)721-26-0110
open 10a.m. until 5 p.m.
closed on Monday